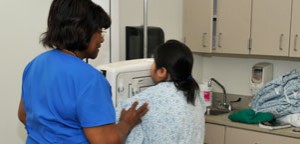 Women, Infants and Children
Special Supplemental Nutrition Program
The WIC Program is a Special Supplemental Nutrition Program for Women, Infants and Children (WIC) funded by the US Department of Agriculture. WIC in North Carolina is administered by the North Carolina Department of Health and Human Services Division of Public Health, Women's and Children's Health Section, Nutrition Services Branch. In Durham County, the WIC Program is administered by Lincoln Community Health Center.
Who can receive WIC services?
Infants
Children up to 5 years of age
Pregnant women
Non-breastfeeding postpartum women up to 6 months
Breastfeeding women up to one year
To get WIC:
You or your child must live in Durham County
Live in a household with income at or below WIC income guidelines
Have an identified medical/nutritional risk problem such as anemia, poor growth, inadequate diet and other nutrition-related problems
To apply for WIC Program services or to complete a certification, you must bring the following:
Proof of ID for participant and parent/caregiver: Current Medicaid card, birth certificate, Mother's Verification of Facts, immunization record, social security card, NC Health Choice ID, other insurance card, driver's license, DMV ID card, school ID, current Military ID, Passport or a recent paystub (less than 30 days).
Proof of where you live: (all items listed must have the participant's current street address): A utility bill—(must be less than 60 days old) Electric/phone/gas/water/cable.
Current Medicaid card with street address, driver's license, DMV ID card, most recent bank statement, mortgage/rental agreement.
Proof of income: Current (less than 30 days) pay-stub of all persons in the household who work or who receive other income prior to application, current Medicaid card, Food Stamp Certification letter, tax return from previous year for self-employed applicants.
Infant/Child, WIC folder, immunization record, and Lincoln registration card.
*Your appointment may be rescheduled if the appropriate documents are not presented at the time of the visit*
Be prepared to provide a dietary recall which is information regarding what your child ate and/or drank within the past 24 hours.
**If you are more than 15 minutes late for your appointment, you may be asked to reschedule**
Please remember to bring your WIC wallet to each visit.
The Program provides:
Nutrition assessment and counseling to promote good health
Food Instruments for:

Milk, Cheese or Tofu
Eggs
Whole- Grain Cereal
Whole-Grain Bread, Brown Rice
Whole Wheat and Soft-Corn Tortillas
Vitamin C Enriched Juices
Dried/Canned Beans, Peas, Lentils
Peanut Butter
Fruits/Vegetables (fresh, frozen, canned)
Chunk-light Tuna or Salmon
Infant formulas/foods
(The WIC Nutritionist will determine which foods a participant receives based on eligibility and individual needs)
Cash value vouchers for fruits and vegetables to be purchased at local grocery stores
FMNP Coupons (Farmers Market Nutrition Program) are issued seasonally to pregnant women, breastfeeding and postpartum women, and children ages 3 and 4
WIC participants are referred to Social Services for the Supplemental Nutrition Assistance Program (Food Stamps) and Medicaid, Food Banks, Lactation Consultants, Pediatric Specialists, dentists, and other health care agencies
All women are encouraged to provide their infant with the best nutrition possible by breastfeeding. Breastfeeding education is given to all pregnant women so they can make informed decisions about infant feeding. Additional breastfeeding education and support is provided by the WIC Breastfeeding Peer Counselors before and after delivery.
Breastfeeding Peer Counselor Program and Breastfeeding classes – call

(919) 956-4595
Durham County WIC Program Office Locations
Applicants are encouraged to schedule an appointment, however, walk-ins may be accommodated.
Lincoln Community Health Center
1301 Fayetteville Street
Durham, NC 27707
Telephone: (919) 956- 4042
Hours: 7:30 am – 6:00 pm – Monday – Friday
Satellite Clinic Locations
Live Well Office Bldg.
3901 N. Roxboro Street, Suite 103
Durham, NC 27704
Telephone: (919) 403-1300
Hours: 8:00 am – 5:00 pm – Monday – Friday
Durham County Human Services Building
414 East Main Street
Durham, NC 27701
Telephone: (919) 560- 7824
Hours: 8:00 am – 5:00 pm – Monday – Friday
(Closed 12:00 pm – 1:00 pm daily for lunch)
Durham Head Start
215 West Seminary Ave
Durham, NC 27701
Telephone: (919) 688-0237
Hours: 8:00am – 5:00pm Wednesdays Only
(Closed for Lunch 12:00pm – 1:00 pm)
To see the entire non-discrimination statement please visit http://www.nutritionnc.com/nondiscrimination.htm
Individuals who are deaf, hard of hearing or have speech disabilities my contact USDA through 
the Federal Relay Service at (800) 877-8339; or (800) 845-6136 (Spanish).

This institution is an equal opportunity provider and employer.