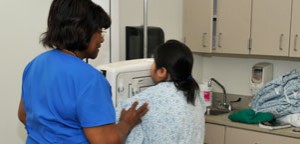 Just For Us
Providing Medical Care to Durham's Older Adults
Growing older doesn't have to be filled with pain or illness. It can be a productive, active, healthy time of life. Just for Us helps Durham's older adults maintain their health and improve the quality of their lives.
Bringing good health care home
Many lower-income Durham seniors living with chronic, debilitating health conditions, such as hypertension, diabetes and heart conditions are unable to access patient care. Through the inter-agency partnership that forms the basis of Just For Us, low-income seniors in Durham have access to the consistent care they need.
Just for Us offers in-home medical services to older adults and adults with disabilities in Durham's public and subsidized housing facilities and group homes who cannot access care on their own. The Just for Us medical team includes a supervising family physician, social worker, nutritionist, occupational therapist, and community health worker. The Just for Us social worker manages care and helps patients apply for benefits like food stamps and Medicaid.
Just for Us is operated by Duke Community Health in collaboration with Lincoln Community Health Center. Patients are enrolled as Lincoln patients, and Lincoln bills Medicare, Medicaid, or other insurances. Patients pay based on Lincoln's sliding scale fee system.
Just for Us services are available to home-bound residents living in the following apartments in Durham:
JJ Henderson Senior Towers
Oldham Towers
Scattered Sites
Forest Hills
Durham Hosiery Mill
JFK Towers
Priess-Steele Place
St. Joseph's Place
Carver Pond
Lakeside Gardens
Camellia Gardens
Morning Glory
Hyde Park Cluster
Arbor Springs
Primary care services and more
Just for Us provides patients with annual physical examinations, consistent monitoring and treatment of chronic medical conditions, treatment of acute care needs that can be treated at home, lab tests, patient health education and case management.
On-site convenience for participants
Residents enroll by calling the Just for Us office and scheduling a medical assessment. If the patient already has a primary care provider, Just for Us staff will contact their provider to ensure that the medical history is accurate and up to date, and will share visit notes with the provider to be sure services are coordinated.
Once enrolled, patients receive regular check-ups and ongoing medical services, referral services for specialty medical care, nutrition counseling, occupational therapist assessment and consultation, assistance with scheduling transportation, appointments, and assistance with social services.
Contact the Just For Us office at
919-956-5386
Just For Us
Duke Community Health
Department of Community & Family Medicine
J. J. Henderson Towers
807 S. Duke Street
Durham, NC 27701
Phone:
919-956-5386