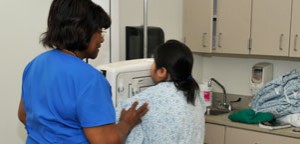 Lincoln Community Health Center -Live Well Primary Care Clinic
The Live Well Primary Care Clinic opened in the summer of 2015. We are a team of family nurse practitioners (FNP), physician assistants (PA), a licensed professional nurse (LPN),  medical assistants (MA), and Patient Services Representative (PSR) dedicated to expanding access to quality primary and preventive health care services to the Durham community.
Our providers are:
We care for all ages (0-100+). We enjoy caring for your whole family. If you choose, your whole family can have the same primary care provider.
We are open Monday through Friday, 8:00 am – 5:00 pm, with a lunch break from 12 noon – 1:00 pm. To make an appointment, please call (919) 956-4034 or (919) 296-1758. Walk-in appointments are contingent on availability and can not always be accommodated the same day. We will work hard to schedule an appointment as quickly as possible. 
We are located at 3901 N. Roxboro St., Suite 101 in Durham, NC
There are providers available at all times. If you need to reach a medical provider when the Center is not open, dial 919-956-4000. You will be connected with MEDCOM, our answering service. MEDCOM will take your name and number and one of our providers will call you.