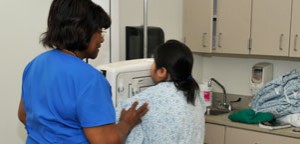 Walltown Neighborhood Clinic
Providing Health Care for the Entire Family
Access to health care services is a crucial part of any community. Ensuring that each member of a neighborhood gets regular check-ups, preventive care and easy access to affordable care for chronic illnesses is an investment in the future of our community. The Walltown Neighborhood Clinic provides those key services, helping Durham residents to stay healthier, and giving youngsters and adults a dose of good medicine.
Reaching out in the community
The Walltown Neighborhood Clinic, a joint program of Lincoln Community Health Center and Duke Community Health, was designed with the help of multiple community members to meet the health needs of residents in the Walltown community. The clinic, located in a renovated house in the Walltown Neighborhood, is easily accessible to any Durham resident needing care.
This health clinic serves all members of the family. Many families are facing difficult financial situations, and often don't have medical insurance. Some residents have chronic medical conditions that impact their lives each day. These clinics offer them a place to get the primary health care that they or their families may need, as well as access to health education.
General medical care and specialty services
The Walltown Neighborhood Clinic staff includes a family physician, physician assistants, nurses, and an office manager. Services include:
Employment exams and sports physicals
Preventive testing and counseling
Well-baby check-ups
Hearing, vision, dental, and nutrition screenings
Appointments for acute illnesses
Routine immunizations
Lab testing
General health education
Mental health assessment
Management of chronic health conditions
Referrals to specialists
Walltown accepts insurance, including Medicaid, HealthChoice and Medicare. For patients without insurance, fees are based on income and family size using Lincoln Community Health Center's sliding scale. No patient is denied care based on ability to pay.
For More Information:
Walltown Neighborhood Clinic
815 Broad Street
Durham, NC 27705
Phone: 919-416-1254
Fax: 919-416-1285