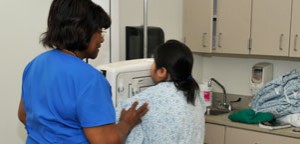 Lincoln Community Health Center – Durham County Human Services Primary Care Clinic
We are located in the Durham County Human Services building at 414 East Main Street, 1st Floor, Clinic #7, left-hand side receptionist.
The LCHC-DCHS Primary Care Clinic is a collaboration between Lincoln Community Health Center and the Durham County Department of Public Health. We are a team of family nurse practitioner (FNP's), family medicine physicians, certified medical assistants (CMA's), dedicated to expanding access to quality primary and preventive health care services to the Durham Community.
Our Providers are:
Dr. Emily Esmaili

Speaks Farsi
Provides care for 0-18 years old patients only
Currently accepting ALL new patients
Available on Wednesday's 8a-12p and Friday's all day

Dr. Barbara Johnston

Speaks Spanish
Provides care for 18+ year old patients only
Currently accepting Pts for treatment of Hepatitis C
Please call for availability
We are open Monday through Friday, 8:00 am-5:00 pm, with a lunch break from 12 noon – 1:00
Appointments are given on a first-come, first serve basis by walk-in or by calling (919) 560-7785 or (919) 956-4034.
There are providers available at all times. If you need to reach a doctor when the Center is not open, dial 919-956-4000. You will be connected with MEDCOM, our answering service. MEDCOM will take your name and number and one of our providers will call you. 
*Transgender services include: hormone replacement therapy (HRT)
**PrEP: PrEP is a pill that you can take once a day to prevent the transmission of HIV
Please call Durham County Department of Public Health (919) 560-8819 for more information. They will provide an initial assessment and will refer you to our clinic if necessary. To learn more about PrEP, please visit the Durham Knows Campaign website
*Lincoln Gynecology clinic located in the Durham County Department of Public Health, by referral from a LCHC primary care provider only.