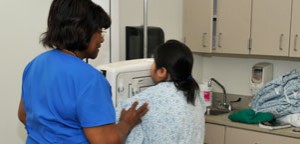 Pediatrics
The Pediatric Department at Lincoln Community Health Center provides medical care for the newborn period through adolescence (age 18).
This care includes the treatment of acute and chronic diseases, health supervision for the child and anticipatory guidance for the parent.
The Pediatric Clinic provides the following services:
Medical
Behavioral
Developmental
Preventative Dental Care
Adolescent Health Care is also provided at The John H. Lucas, Sr. Wellness Center at Hillside School, A School-Based Clinic.
The Pediatric Clinic operates 8:00 AM – 8:00 PM Monday through Friday, and 8:00 AM – 12:30 PM on Saturday.There is a pediatric provider on call (for urgent problems).
Patients are seen by appointment.
If your child walks-in with a health problem and does not have an appointment, The Resource Nurse will determine, according to the Guidelines, whether your child will be seen that day.