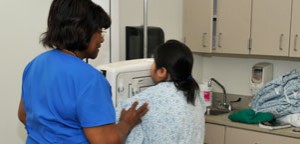 Behavioral Health Clinic
The Behavioral Health Clinic at Lincoln is a specialty area which focuses on mental health issues such as depression, anxiety, stress, and substance abuse. Individual psychosocial assessments are provided with recommendations for follow up treatment which may include medications, one on one counseling, or referral into the community where patient needs may be met more appropriately.
Our staff consists of:
Adult and child psychiatrists with assistance from residents of Duke University Medical Center who rotate through our clinic for a period of one year.  We have one bilingual/Spanish speaking psychiatrist and our Spanish speaking patients may also be assisted in translation via a phone translation service.
Licensed Clinical Social Workers.
Case Manager who is bilingual.
Certified Substance Abuse Counselor who comes from Duke every Tuesday from 9 a.m. to 5 p.m.
Services provided:
Psychiatric assessments and follow up for medication monitoring for adults, adolescents, and children
Psychosocial Assessments and follow up counseling for adults
Substance Abuse Assessments and follow up treatment for adults
Case Management, referring, linking, and coordinating services within the community
Crisis Assessment and referrals for higher level of care if needed
Criteria for Admission and ongoing treatment within the Behavioral Health Clinic:
Must be a registered patient for health care with Lincoln Community Health Center
Must receive ongoing primary medical care through PCP at main Lincoln Clinic or Satellite Clinics.
Referrals may come through:
Primary Care Physician
Other health or mental health community agencies, hospitals, clinics
For additional information or questions contact: 919-956-4068