OUTREACH WORKER/ MAI-SI Project
(Behavioral Health Clinic)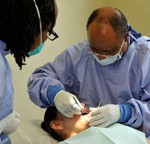 POSITION SUMMARY
Will provide comprehensive outreach for the MAI-SI (Minority AIDS Initiative-Service Integration) project. This includes implementing outreach strategies to inform individuals of available behavioral health services, and HIV and hepatitis primary care and prevention services; conducting outreach activities; marketing the services of LCHC; and completing program record-keeping.
KNOWLEDGE, SKILLS AND ABILITIES
A general knowledge of the Durham community and its resources is required. Knowledge of SMI/COD and HIV/AIDS through seminar and coursework required. Ability to communicate effectively with people of diverse backgrounds and educational levels. Ability to meet monthly goals, exercise good judgement, and coordinate efforts with various LCHC departments. Must possess knowledge of a broad range of social service, behavioral health, AIDS service organizations, and other community support/assistance. Ability to work effectively as a member of a team. Ability to use computer systems and the Internet. A valid driver's license and reliable insured transportation required. Must have an acceptable driving record.
EDUCATION AND EXPERIENCE
Minimum of high school graduate or equivalent required; AA preferred. Demonstrated knowledge of outreach methods, including interviewing and assessment.
CLOSING DATE
Open Until Filled