Peer Educator / MAI-SI Project
(Behavioral Health Clinic)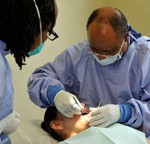 POSITION SUMMARY
Will provide comprehensive peer support for the MAI-SI (Minority AIDS Initiative-Service Integration) project. This includes working with the community members, the local health department, State Disease Intervention Specialists (DIS) AIDS service organizations, community based service organizations, faith-based communities, and testing programs and identified communities at risk.
KNOWLEDGE, SKILLS AND ABILITIES
A general knowledge of the Durham community and its resources is required. Knowledge of SMI/COD and HIV/AIDS through seminar and coursework required. Interviewing, facilitation, computer and texting skills required. Ability to communicate effectively, verbally and in writing to diverse populations including patients, staff, and general public required. Ability to lead group discussions. Ability to adjust to various personalities in stressful situations and maintain positive interactions with users. Ability to work with professionals as part of an integrated care team. Ability to maintain strict confidentiality. Valid NC driver's license with a good driving record and reliable vehicle is required.
EDUCATION AND EXPERIENCE
Minimum of high school graduate or equivalent required; one year (1) of experience in a position involving patient/public contact, preferably in the Behavioral Health or HIV/AIDS arena. Eligible to be certified as a NC Peer Support.
CLOSING DATE
Open Until Filled