LCSW / Project Director / MAI-SI Project
(Behavioral Health Clinic)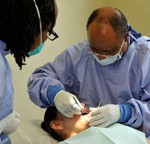 POSITION SUMMARY
Directs and coordinates all aspects of the MAI-SI project, including providing administrative leadership, guidance, training, and expertise; supervising project staff; and ensuring that the project meets goals and objectives.

KNOWLEDGE, SKILLS AND ABILITIES
Must have through knowledge of psychosocial, psychological, behavioral and psychiatric disorders, including substance use disorders. Ability to communicate clearly in writing and verbally in a professional manner and style, and the ability to communicate effectively with people of diverse backgrounds and educational levels. Ability to maintain an effective working relationship with patients, staff, community resources and the general public.
EDUCATION AND EXPERIENCE
Master Degree in Social Work or related human services is required. Licensed as a clinical social worker (LCSW) as required by the NC Board of Clinical Social Workers. A minimum of three (3) years of experience of experience (post Masters) in human services field as a clinical social worker in a health or mental health setting, or five (5) years of experience (post Masters) as an MSW in a non-clinical setting Previous supervisory experience required.
CLOSING DATE
Open Until Filled