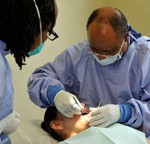 BILINGUAL CLINICAL SOCIAL WORKER
(LIVE-WELL CLINIC) 
OCCUPATIONAL SUMMARY
Provides initial assessment, diagnoses, evaluation, and treatment services for adult patients. May provide consultation, screening, and referral for adolescents and children as needed. May provide case management services as needed for adults or children. May assist in planning, developing and implementing health promotion and disease prevention programs and therapeutic services for individuals, groups and families.
KNOWLEDGE, SKILLS, AND ABILITIES
A thorough knowledge of psychosocial, psychological, behavioral and psychiatric disorders, including substance abuse. Ability to communicate clearly in writing and verbally in a professional manner and style, and the ability to communicate effectively with people of diverse backgrounds and educational levels. Ability to maintain an effective working relationship with patients, staff, community resources and the general public. Bilingual Required (Spanish)
EDUCATION/EXPERIENCE
A Master's Degree in Social Work or related human services is required. Licensed as a clinical social worker or a Provisional license as a Clinical Social Worker as required by the North Carolina Board of Clinical Social Workers. A minimum of three (3) years' experience post Masters in human services field as a clinical social worker in a health or mental health setting, or five (5) years' experience post Masters as an MSW in a non-clinical setting.
CLOSING DATE
Open until filled