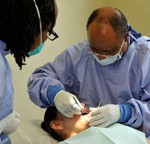 Case Manager/MAT
(Behavioral Health Clinic)
OCCUPATIONAL SUMMARY
Provides assessment of patient needs, research resources, refer, link, coordinate services to ensure client access to all available resources to meet identified needs.
KNOWLEDGE /EXPERIENCE/ EDUCATION
Ability to communicate clearly in writing and verbally in a professional manner and style; and the ability to communicate effectively with people of diverse backgrounds and educational levels; ability to maintain an effective working relationship with patients, staff, community partners and the general public. Knowledge of or the ability to obtain knowledge of community resources.
Bachelor's Degree in Human Service area such as social work or psychology.
Two years documented experience in the field of mental/behavioral health or case management in behavioral health, medical or social service agency.
CLOSING DATE: Open Until Filled