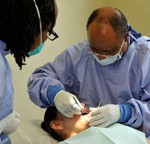 ADMINISTRATIVE COORDINATOR/SAFETY OFFICER 
OCCUPATIONAL SUMMARY

Responsible for administrative support to the Chief Executive Officer and performs additional administrative duties as directed/delegated. The Administrative Coordinator also serves as Safety Officer.
KNOWLEDGE, SKILLS, ABILITIES, EDUCATION, EXPERIENCE:

Thorough knowledge of Community Health Center operations and procedures. A general knowledge of Health and Human Services regulations as they related to health care organizations. Thorough knowledge of grants and contract preparation desired. Excellent writing and editing skills required. Excellent customer service skills and ability to communicate effectively both orally and in writing. Ability to interpret and implement policies as directed.
EDUCATION
Graduation from a college or university with a degree in English, Business Administration, Public Health or related field preferred.
PREVIOUS EXPERIENCE
Three years' experience in a Departmental Administrative Support role preferably in a health care setting required. 
CLOSING DATE
Open Until Filled