Employee Health/Infection Control Nurse Manager
Joint Commission Coordinator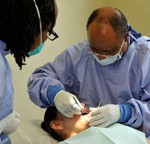 OCCUPATIONAL SUMMARY
Perform a variety of administrative and clinical nursing responsibilities to manage the Center's Employee Health Program. The position is responsible for the management of Infection Control Practices and Procedures throughout the organization as well as the coordination all Joint Commission preparation activities and updates. The position is responsible for the ordering all clinical supplies and equipment as well as maintenance and training.
KNOWLEDGE, SKILLS AND ABILITIES
Considerable knowledge and professional occupational (employee health) nursing theory, practices and procedures. Considerable knowledge of infection and control standards guidelines. Ability to explain procedures, medication, personal care and other health related information. The position requires the ability to establish and maintain confidential work relationships with clients, physicians and other health care personnel. Previous health education skills and abilities are required preferably with diverse populations. A minimum of three years of experience as a registered nurse. Six (6) months experience as an occupational (employee health) nurse preferred.
EDUCATION
Graduation from an approved Registered Nurse Program and have a current license to practice as an Registered Nurse in the state of North Carolina.