Call Center Triage Nurse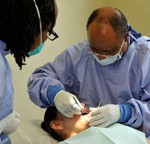 OCCUPATIONAL SUMMARY
Under the direction of the Director of Nursing, the Triage Nurse will perform professional nursing functions to assess the severity of patient's health care concerns using protocols and algorithms.  The Triage Nurse will be imbedded in the Call Center and respond to calls which require clinical assessment and direction.  The Triage Nurse will determine urgency of patient needs and direct to urgent/emergent appointments at Clinic or to the nearest emergency room as appropriate.
KNOWLEDGE, SKILLS AND ABILITIES:
Knowledge of disease processes, normal growth and development of all age groups.  Must possess community health knowledge and have the ability to operate with cultural sensitivity to work with individuals   from diverse racial, ethnic, economic and social backgrounds.  Excellent communication and computer skills are required.  Knowledge of EPIC or other EHR systems required.  Critical clinical thinking skills and nursing assessment skills without visual inspection required.  Clinical competence and the ability to function independently within the nursing scope of practice required.
EDUCATION:
Graduation from an accredited nursing program with an unrestricted Registered Nurse License required.  BSN preferred.
CLOSING DATE
Open until filled