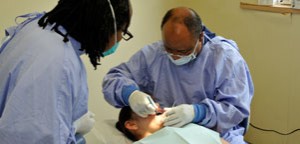 INTERPRETER/RECEPTIONIST
OCCUPATIONAL SUMMARY
Communicating in English/Spanish to perform a variety of clerical duties in registration area involving receiving patients, advising them of clinic procedures, collection procedures and other general Center information, including the Patients' Bill of Rights and Responsibilities. Assisting Spanish speaking patients in accessing all Clinic services by providing any needed translation services.
QUALIFICATIONS
Must have ability to communicate fluently in Spanish and English.  Ability to follow standard clerical and office procedures, write legibly, be polite and courteous to patients/staff and follow written guidelines.
Graduation for high school or equivalent. Previous clerical experience preferred.
CLOSING DATE
OPEN UNTIL FILLED