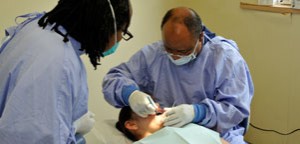 DENTAL ASSISTANT
OCCUPATIONAL SUMMARY
Assist the Dentist chair-side with dental procedures, independently performs direct patient care functions, performs laboratory procedures, sterilize and manage dental instruments, produce dental radiographs, help facilitate patient traffic, manage dental supplies and dental equipment maintenance.
KNOWLEDGE/ SKILLS/ ABILITIES
Must have the ability to work with patients, dental team members, and other employee's.   Must be able to Communicate effectively with patients and other dental team members.  Must have organizational skills.  Must have knowledge of Dental terminology and dental condition.
QUALIFICATIONS
Certification as a Dental Assistant II, Radiology Certification, Coronal Polishing Certification and CPR-Basic Life Support
Computer Skills:  Microsoft Office, email/internet and ability to learn other healthcare related software.  Completion of certified program in dental assistance and successful completion of the certification exam.  One (1) to two (2) years of experience in a dental office preferred.  Bi-lingual Preferred (Spanish).
CLOSING DATE
OPEN UNTIL FILLED