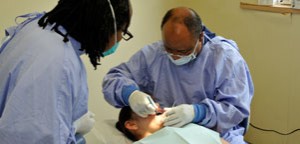 Position Available – Adult Medicine,  Family Medicine Physician, Community Health Center in Durham, NC
Lincoln Community Health Center (CHC) in Durham, North Carolina is a Federally Qualified Health Center which has been proudly serving the community for over 40 years, and has been Joint Commission accredited since 1987. Recently we were also awarded recognition by the Joint Commission as a Primary Care Medical Home. Our medical staff is comprised of internists, pediatricians, and family physicians, as well as mid-level providers. At our well-equipped main facility in downtown Durham we are fortunate to have an outstanding pharmacy, lab, radiology, and dental services. We also have onsite a behavioral health team including psychiatrists and clinical social workers. In addition, we operate a number of smaller satellite primary care sites, including a clinic providing health care for the homeless, a school-based clinic for middle and high school age youth, a Ryan White grant-funded HIV clinic, and a clinic co-located within a crisis intervention center for people suffering from mental health and substance abuse problems.
Lincoln CHC is Durham's largest "safety net" provider of services to people who are medically vulnerable because of low income, lack of insurance, and other challenges. We are highly regarded within the community, enjoying strong support from the Duke University Health System and from community physicians, and productive collaborations with the Durham County Health Department and many other local agencies. Medical students, residents, and other health professional trainees regularly rotate through Lincoln, reporting that they value their interactions with our patients, and with our clinicians. Lincoln offers a wonderful opportunity for a well-trained, energetic, and motivated physician seeking to practice outpatient primary care in a setting of real need, as part of a talented, dedicated, and mutually supportive multidisciplinary staff. Approximately 35% of our patients are Spanish speaking, so while not required, Spanish language fluency would be a valuable asset. Competitive salary and benefits.
Please forward a CV and cover letter of interest to:
Ms. Claretta Foye
Chief Operating Officer and Human Resources Director
Lincoln Community Health Center
1301 Fayetteville St.
Durham, NC 27707

E-mail: claretta.foye@duke.edu