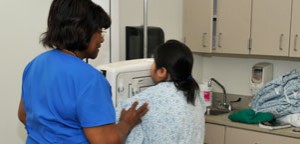 Family Medicine Clinic
The Family Medicine Clinic opened in the summer of 2012.
We are a team of doctors, nurse practitioners, physician assistants, nurses, and certified medical assistants (CMAs), dedicated to providing primary and preventive health care in a patient-centered way.
We care for all ages (0-100+). We enjoy caring for your whole family. If you choose, your whole family can have the same primary care provider.
We are open every day of the week except Sunday, and see patients by appointment, 8:00 am – 8:00 pm Monday – Friday, 8:00 am – 12 noon on Saturday. Appointments are given on a first-come, first-served basis by calling
919-956-4034.
We are located at the Lincoln main site, 1301 Fayetteville St., in the same building as the Pediatric and Adult Medicine Clinics.
A provider is on call after clinic hours and on weekend for urgent medical problems.
An answering service based at Duke Regional Hospital recieves all after-hours calls related to the clinic and refers them to the provider on call.
We care for the whole family because…
Living healthy is a family decision
Caring for loved ones is a family matter
Knowing your family is rewarding for us, and it helps us take better care of you!